Computational Photography Prototype
Prototype developed in collaboration with the Institute of Astrophysics of Andalucía team formed by:
Gian Paolo Candini || Doctor en Ingeniería Aeroespacial, Ingeniero en Electrónica
M. C. Cárdenas Vázquez || Ingeniera Óptica
Luis P Costillo Iciarra || Doctor en Ciencias Físicas o Titulado Superior del CSIC

Isabel Bustamante || Técnico Superior Maquinas-Herramientas



LCD of 160x104 pixels.
Only 104x104 are used.
LCD size: 78x61x2.8mm.
4 gray levels per pixel.
The setup:

Nikon D5000
12.3 Mpixel DX sensor
CMOS,23.6 x 15.8 mm.
Lens: Nikon Nikkor AF 50mm f/1.8 D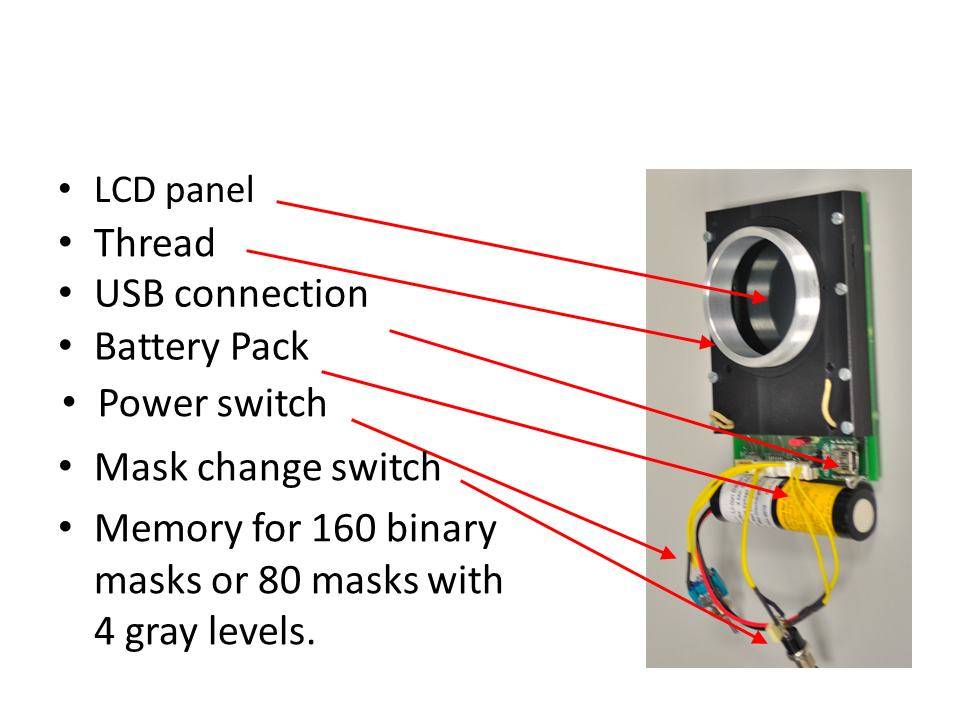 It can be mounted as a filter on any 52mm diameter lens. We used a Nikon Nikkor AF 50mm f/1.8 D.
Mounted on the lens.

Light weight.

Despite its size it is very comfortable to take pictures with it attached.
Mask editor
(still on development)

4 gray levels.
104x104 masks.
Will allow to create a mask from an image.
Will allow to transfer the masks from and to the prototype.
LCD displaying the transferred mask.

A connection to the computer is only needed for transferring the masks.
Video demonstration of the prototype
Computational Photography Prototype from Visual Image Processing Group on Vimeo.
Some Example Pictures